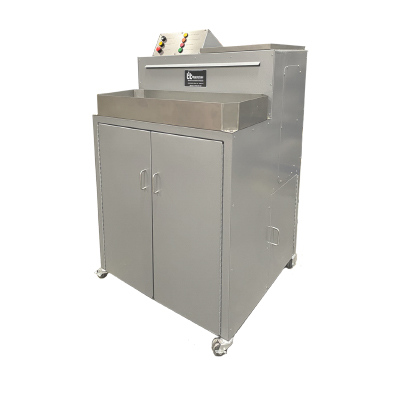 BB-3 Metal Recovery Processor
Fast. Simple. Affordable.

It's all there - processing, dust control, and simple metals recovery - in one compact, affordable package. The BB-3 is a complete solution for small and mid-sized crematories.
Built for rapid, efficient processing of cremated remains
Safe, push-button operation, controlled by a Programmable Logic Controller
Durable stainless sort/load tray
Twin-blade design for faster, finer processing
Dust-removal system designed to exhaust outside the building and protect operator health
Heavy-duty industrial wheels for easy mobility
Small, but Mighty.
The BB-3 is built to last.  It features a powerful 2-HP motor with plenty of torque for extended duty.  The processor blades are 1/4" case-hardened steel with easy access for servicing.
Portable
Heavy-duty wheels allow for easy mobility and convenience.
A Simple Solution to a Complicated Problem
The BB-3 starts with the industry's most proven approach to remains processing – a twin-blade rotary blade and a simple, gravity feed.  Large metals such as artificial joints, etc. are removed by the operator before processing.  Small, high-value metals are captured by a fine, 2mm screen that can be emptied as needed from a convenient side door.
Height: 55.5"
Width: 33.5"
Depth: 32""
Weight: 475 lbs.
Have a BB-3 Metal Recovery Processor brochure delivered to your Inbox